3 best CMS Platforms for your Website
What's great about creating your very own website in 2020 is that it's easier than ever. You have a lot of choice in terms of platforms and almost all of them allow you to create any type of website, whether it's an online-store, landing page or just a regular blog website.
However with increasing number of options available, making a choice becomes even harder, so in this article we'll help you make that choice.
What is Content Management System ?
In short, Content Management System or CMS is an application that enables you to manage and publish content on your website in a very user-friendly manner. (Most of them enable you to do so without any knowledge in coding).
Well the explanation that we have given you is very generalized, in fact CMS platforms have higher functionality allowing you to run and monetize your website.
How do you choose one ?
Just before you get to our Top 5 list, here is what you should be looking at when choosing a good and reliable CMS:
Easy of content managing – any CMS must include a visual editor which would allows you to edit and publish your content, making it look astonishing.
Tools Available – look for a CMS that has a lot of built in tools and free plugins as those would save your time and energy further as you continue to grow your website. (For example: plugins for payment gateways and delivery options)
Price plans – yeah although all of the CMS's in this list are going to be free, there are additions for which you can pay, so we're going to look at affordability factor as well.
Ease of Use – generally these must be straightforward and quick to learn, most of CMS systems would have a drag-and-drop interface.
Help and Support – although all CMS systems have a tech support, forums and a community where questions are being answered, it is important to find one with the highest level of support, so in case you have questions, those won't remain unanswered.
5 best CMS systems for building a website
So now that you know what a CMS is, let's dive into it, and look at some specific examples of CMS systems that we highly recommend to use, whether you are a complete beginner or a professional, we hope that you find this article useful.
1. WordPress
Yeah, we know you may have already heard about this one, but we want to share our opinion about it as it really is a fantastic CMS for any type of website.
Today, more than 35% of all websites are running on WordPress ! Isn't that amazing ? WordPress does have the largest community out of all of the CMS systems that we are going to talk about, but it is really easy to see why is it.
WordPress was launched back in 2003, and was initially conceived as a blogging platform, although throughout the time, it has grown to one of the most versatile and widely used CMS systems, as we mentioned earlier, you can create anything from personal blogs, to giant ecommerce stores using WP.
Advantages:
When it comes to ease of use, WP is definitely a winner, offering loads of drag and drop solutions, it really is the platform at which you can build any type of website with absolutely no knowledge of programming. Adding new content and editing existing is as easy as it could be, with the powerful features of a visual editor, you can make your content look outstanding just in few clicks.
Pricing – we must mention how cheap wordpress is, for 8$ a month, you get a premium package which includes (Free domain, SSL Certificate, full library of ready to use templates and much more). Full pricing table is available here.
Tools – the tools that are available in wordpress community library, allow you to implement any idea into a web resource, 50,000 plugins and 11,000 themes is more than you can imagine.
Community – we also do have to talk about the supportive community in this amazing CMS, lot's of solutions are available on youtube, forums and blogs, so you are never going to have a problem finding a solution for a given problem.
Multipurpose – above we have already spoken about this, literally any type of website can be made using WP, what's also amazing is that WP is user – friendly so if you are a complete beginner, you are not going to experience any issues at all.
Disadvantages:
The only downside is that sometimes you will have to download multiple plugins for adding a precise functionality to your website.
2. Joomla
When it comes to choosing a CMS, Joomla is the second most popular name that you are going to hear alongside with WordPress. The reason for this is because it has also been there for many years now since it was published back in 2005. While Joomla is not as user-friendly when it comes to making websites on it as a beginner, it might be even more flexible than WordPress, but requires more knowledge. So this one would probably suit experienced users more.
Advantages:
Joomla is more adapted to the visual representation of content on your website, so it might be an option if you don't use a lot of text content and instead use custom designed posts.
Earlier we have mentioned that it could be more flexible, and indeed it can, for example in Joomla you have more options available to you when it comes to user management, which means that websites like membership clubs could be set up more easily using Joomla when compared to WP.
Pricing – same as wordpress, Joomla is a free to use CMS so you don't have to pay anything, and most hosting companies would allow you to install it just in 1 click.
Tools and Extensions – Joomla doesn't have such rich library of free extensions and themes when compared to WP, but still, 8000 free and community add on's would definitely help you out there.
Community – Joomla has been on the market for many and many years now, so there is an established community, and just like with WordPress you will easily find all the answers to your questions about it.
There is one more thing that Joomla offers, and it's the multilingual website out of the box, so if you are planning to make a multilingual web source, you might wanna do it with Joomla.
Disadvantages:
There aren't that many options for additional extensions. If you're used to a CMS like WordPress, which has thousands of available themes and plugins that extend the core functionality, you might be disappointed by Joomla.
3. Drupal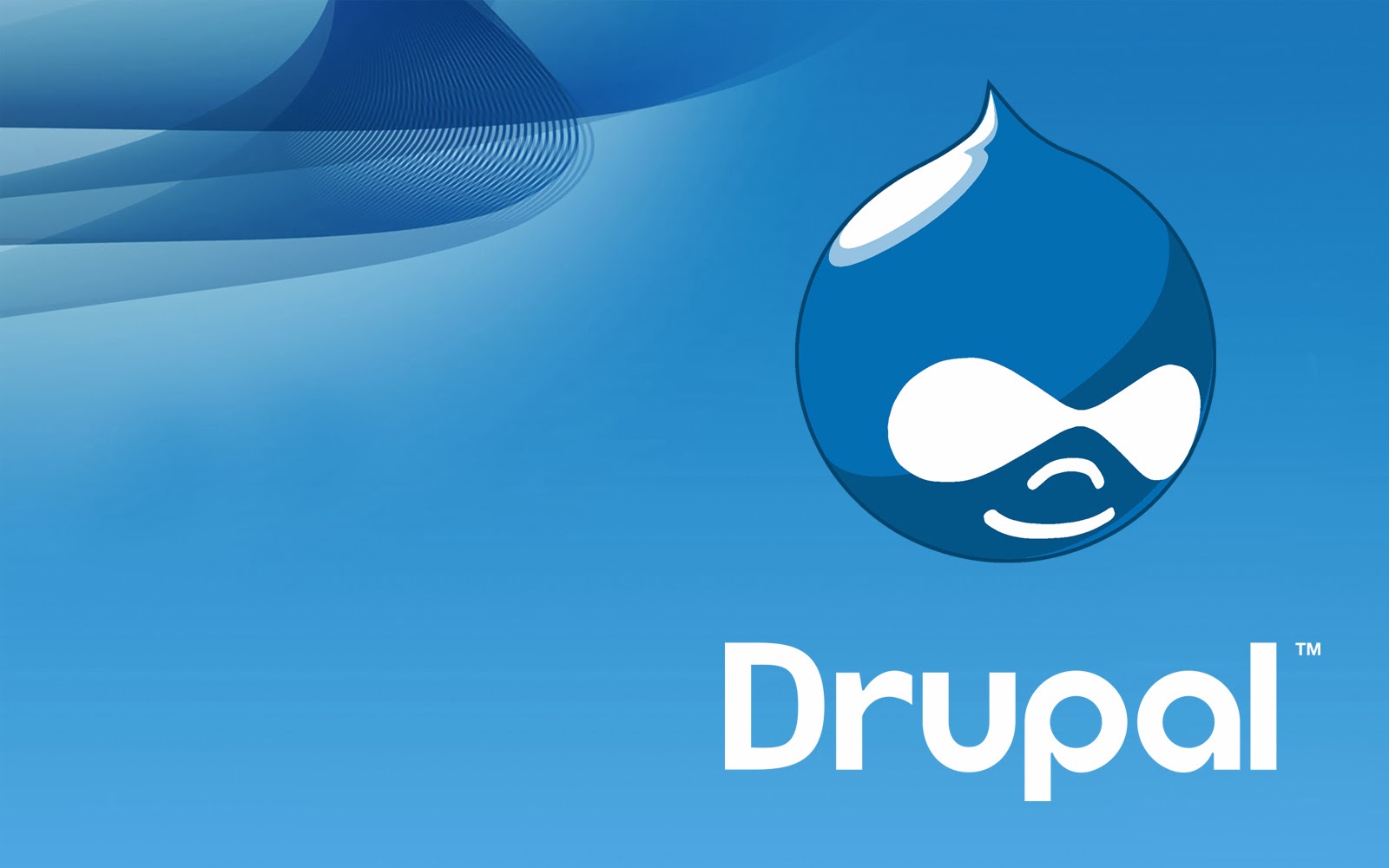 Drupal is another popular option, it might not be as popular as previous two, and the functionality is limited when compared to WordPress, but Drupal is in the same boat with Joomla, providing higher flexibility in terms of custom posts.
We need to mention that it is especially a good option for developers or people who would hire a developer, as Drupal is more on the advanced side, and it requires more skills.
Advantages:
However there are other factors and benefits where Drupal is winning among the previous two competitors, for example it's considered to be a much more secure platform when compared to both wordpress and joomla
Pricing – is also free to use CMS with a lot of add on content.
You can build almost any type of website you want using the 'big three' CMS platforms, which include WordPress, Joomla, and Drupal. However, Drupal is renown for its scalability and security, which often makes it a better option for enterprise and business sites.
In most cases, we wouldn't recommend that you use Drupal unless you have web development experience.
Conclusions:
No matter which CMS platform you use for creating your website, in the end of the day, all 3 of these would provide you with wide range of tools for creating a stunning and professional looking website.
Our personal choice is – WordPress, and this is due to all the benefits that we have listed above, fun fact, Webnister is running at WordPress.
And what is your opinion about the best CMS platform ? Share your opinion down in the comment section below!